> Support Structures, 2020
Wood litho, etching and woodcut
Varied edition of 7 + 3 artist proofs
Bleed print, 595 x 450mm
> A Way Through, 2020
Wood litho, etching and woodcut
Varied edition of 8
Bleed print, 211 x 287mm
> In it Came, Right up to the Edges, 2020
Wood litho and Mokuhanga
Varied edition of 5 + 3 artist proofs
255 x 211mm
> Recent work
Pencil, watercolour, acrylic, collage, paper, plywood
>
Landforms
, print series, woodcut, 2017
Series of one-off prints which reference the point where land meets water. Made from 4 individual carved woodblocks printed on their own and in combination, the prints can be assembled in various different arrangements, or displayed individually.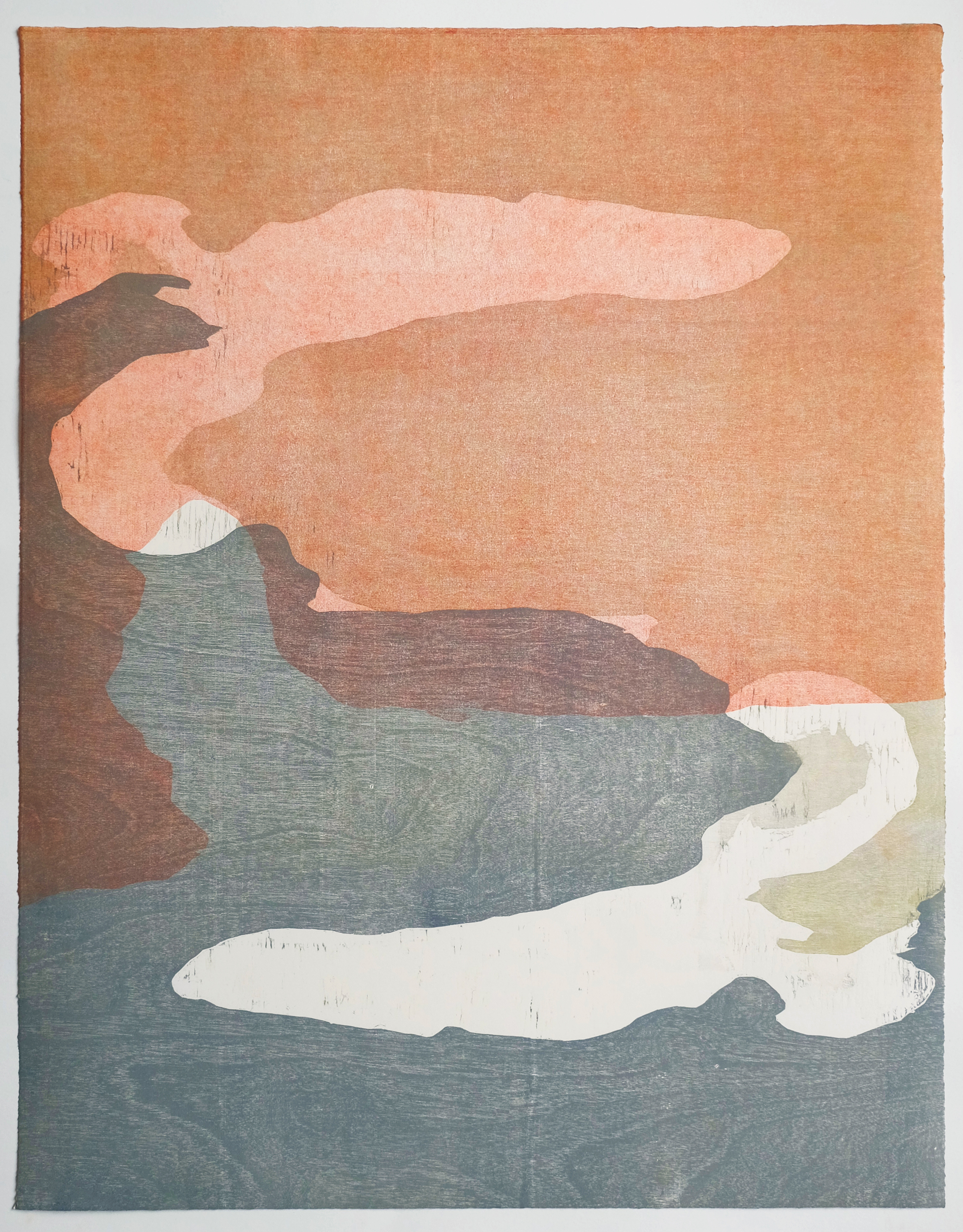 > Momentary Permanence
Unique artist book
Stone lithograph and collage on paper, hand-bound
2018
> Intersection
Print series
woodblock (mokuhanga)
2019
> Selected / Contained
Print series
Photo-etching
Edition of 10, unframed
2012
27 x 40 cm
> Fragments
collage, pencil, paint, paper, plywood
Ongoing series of playful pieces exploring balance and form. Often inspired by architectural forms or my everyday surroundings, they are a way to work things out and to investigate dissonance and harmony of shape, texture and colour.
Process is hugely important in my practice - it guides my image making, provides parameters, and generates ideas. Printmaking often acts as an intermediary or intervention - work germinates from a collected archive of drawings, photographs, memories and experiences, and evolves through printmaking processes such as etching, lithography and woodcut. I often print onto thin Japanese washi papers, which are then taken a stage futher and used to create unique collage pieces.

I have 15+ years of experience working in printmaking - it's what I'm trained in and it's what I love doing. I specialise in etching, lithography and woodblock printing.

Lithography is a planographic print process which uses a limestone block, a metal plate or a wood block as a matrix to print from, and relies on the antipathy of grease and water to create a print. (The video playing above/to the side was made by filmmaker Bill Newsinger while I was print fellow in stone lithography at Leicester Print Workshop in 2013).

Etching is an intaglio printmaking technique, where lines and texture are bitten into the surface of a metal plate with acid. When ink is applied to the plate, these lines hold ink and are transferred to the paper surface when run through a printing press.

Mokuhanga (Japanese woodblock printing) is a relief printing process where sharp gouges are used to carve into the surface of a wood block. Water-based ink is then applied to the block surface, specialist washi paper is laid down on top and pressure is applied by hand with a baren to create the print. I learned this technique on a 5-week artist residency in Japan in 2018.